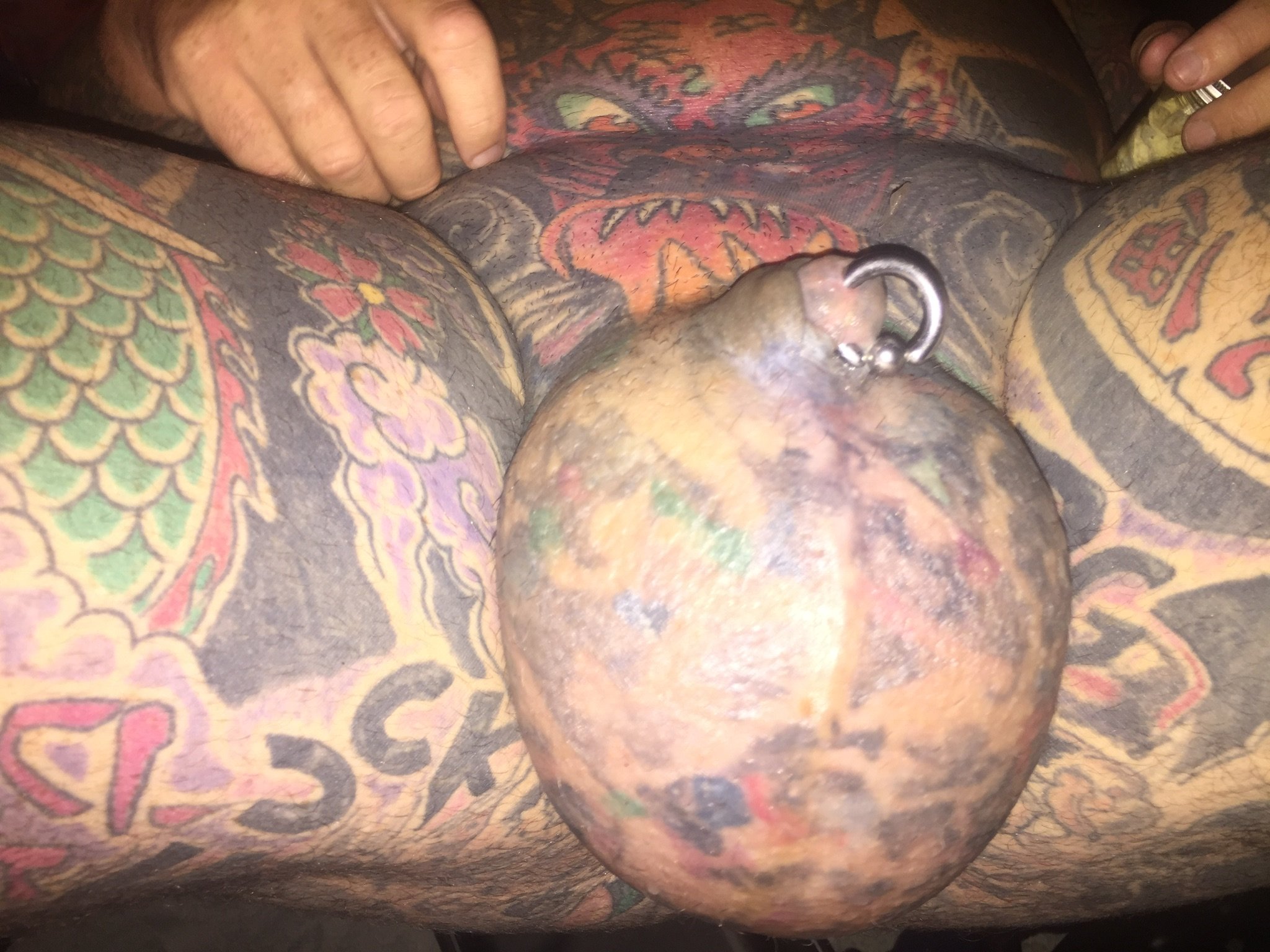 Posts

29

Joined

Last visited
About Tattmad
Rank

Participant

Birthday

05/10/1969
Profile Information
Gender
Location
Interests
HIV Status
Role
Background

Nice friendly chap recently discovered sleaze

Porn Experience
Looking For
More Info
BarebackRT Profile Name
Recon Profile Name
Would love it if someone would take a very willing newby sub to the Heath.??

Never heard anything…but am keen to be a slut on camera taking anonymous loads any help/pointers much app reciated thanks

Love to be blindfolded, restrained, in my harness and boots and anonymously pimped out as a willing filthy eager and active very greedy cumdump. I can get to London easy.

Yes please. Live in Surrey, but easy to get to London if needed. Just need at least a couple of days notice. Love to wear my gear, saline in scrotum too

Hi this is on my bucket list. ideally I would have my boots, harness, pig mask and chain on with 1.5 litre of saline in my scrotum. I do take prep so bareback is good. I love the idea of filmed pimped out slut role or anonymous cum dump role-lots of verbal abuse but obviously safe from harm Based in Surrey, but can travel let keep know if interested. Thanks jim

Hi i am a 51 year old sub who when horn, flying and p,aging...my only desire is to please my top(s) by letting him/them actout his filthiest desires. i am sane, sorted day to day. Decent, pleasant, honest and well presented stocky heavily tattooed guy. I take prep as I like raw love playing in my boots, chain, harness and blindfold with 1.5 litre of saline in my tattooed scrotum. am Surrey based and can travel. am early retired so flexible. just like to plan rather than here and now, as I have real life too. jim

I am happy to be a filthy sleazy cumdump for you and your buddies. live in Surrey, can travel...just need notice. not a fantasist...just want to play a being a whored out blindfolded spun peppered cumdump...I am very verbal when playing and my need to please

Profile picture is so Fucking HOT - again HOT !  Tattoos - Balls - Dick - Piercings - hope enjoying getting High - like to learn more about you !   WOOF !

Thanks matey.

Day to day, just a very shy, polite, pleasant guy next door, decent guy..try to be as helpful to all, good reliable friend etc.

I just love the sleazier extreme side of gay sex...not into [banned word], animals, kids etc.

love the idea of more extreme in,, cumslut, pig etc in bold black..plan to do that this Summer

just being a total chummed up pimped out slut is my huge desire....it is only play....am sane and sorted day to day and want to stay that way

jim

Hi. It is a genuine desire of mine to be blindfolded, in my boots and harness, a litre of saline in my scrotum and slammed, whored out and a worthless cum dump whose only thought is to be the depraved filthy kinky willing fuck toy of anyone my handler chooses. My only reward being the pleasure of as much raw cocks and cum as I can get. Ideally filmed (head covered) genuinely interested and not just empty words.

I would be so up for a poz party. I really want to get pozzed and spread the love. Let's do it! 

Hi mate.

As much as a piz party and loads are a massive fetish and turn on for me.

pits just not something I actually want to do at this point of my life.

I have enough health issues with tablets, I rattle when I walk.

it's just not what I want to do (yet).

sorry to be so negative (no pun), and certainly not a judgement...just not for me.

Hope you do find one though.

best wishes

jim

Hi. Probably a daft question, but I have looked without real success, but lots of "I would" from fantasists etc. Are there generally regular small groups etc. (Thinking 6 or less as a rough guide) that meet regular in the SE of the UK, maybe taking it in turns hosting?? Looking for regular friendly discreet, honest everyday guys who are not into extreme and not spouting no limits/24/7slave fantasy, bug chasing, animals, kids. (No judgement here, just not in that place). Just decent guys who love filthy sleazy group play in a discreet friendly safe environment knowing it's fun and it's play etc. Do such groups exist? Could anyone tell me where or how to find etc. Would love to be part of something like this as would my partner (he not as often). We have a lovely clean playroom in Surrey, loads of gear, but no idea..😂😂😂 It's something I just don't really know how to start or get into as a late starter in this I feel I should know but get embarrassed talking sex etc. (Upbringing, Catholic guilt , ex forces etc.) Thankyou in advance if anyone can assist either on the forum or message direct to me. .

Partner and I are going here early Feb 20. Looking for the best place that we can live my fantasy of being a blindfolded naked hungry cum slut and he whore me out, ideally in a bar with sling or similar so that I have an audience witnessing my pure pig instinct. Yumbo seems to be the area, just looking for any tips on best place at the current time.. thanks in advance. 🐷🐷

I am v v interested in this...all my control taken and just used for others pleasure in a safe "play" environment. Too many fantasists though talk about this, but never commit with venues , dates, times etc.

Lol....I got a suspension off here for my naughty request. the night though was full on fuckness...The reality of being a cum bucket for raw loads was the best thing ever...i took about twelve loads before I had to submit...it was dripping from me and used as lube which was just amazing. recommend it

I have finally got flights booked for the November Fickstutenmarkt in First week of November.. still to book accommodation....if anyone has ideas? Is it easy to get 'enhancements' around the area.?.?...I want to be the sleaziest red hooded mare there with no inhibitions ruining my sheer piggyness.. any advice always welcome.. my dream is this weekend in a Berlin with a target of 50 raw loads ???